St. John Francis Regis Legacy Society
The St John Francis Regis Legacy Society honors donors who have made the ultimate gift by recognizing Regis Jesuit High School in their wills or estate plans.

Members of the SJFR Legacy Society enjoy special benefits, including:
Invitation to an annual recognition event
Acknowledgement in our President's Report and the RJ website
A special welcome gift from RJ
VIP Activity pass to RJ sports and performing arts events
Bi-monthly e-newsletter with up-to-date information on estate planning, tax laws and gift options
Please contact Glenn Churchill '69, Planned Giving & Major Gifts Officer at gchurchill@regisjesuit.com or 303.269.8041 for more information.

Click here to download the St. John Francis Regis Legacy Society Notification Form

All inquiries and interest in making a planned gift to Regis Jesuit High School are treated with confidentiality. A donor should consult his or her investment and tax advisors as circumstances and implications vary around planned gifts.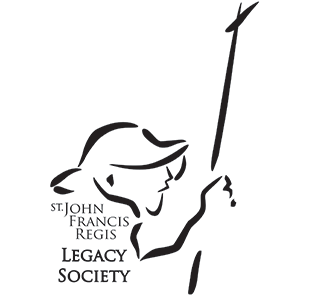 Below are the current members of the St. John Francis Regis Legacy Society:
Don and Julie Alcorn
Emily S. Ballinger
Tyler Ballinger '16
Vince and Mary Bartholomew
Stephen D. & Marnie M. Bell
Richard † A. Berens '54
Randy Blach
Leo J. Boyle '64
James P. '84 and Debra A. Campbell
Dave A. Card '87 and Janalee Chmel
John and Judith M Case
Rev. Ronald W. Cattany '71
Kenneth J. and Elieen C. Cavanaugh
Glenn G. Churchill '69
Robert J. and Susan B Clark
Robert L. and Molly J. Cohen
Peter '74 and Sharon Coursey
Donald R. '57 and Sally Cunningham
Mary V. Dancs
Frank † C. Davis Jr.'42
James M. '59 and Cynthia DeFrancia
Martha Diss Sundby
John Donnellon
William V. '73 and Donna A. Dunn
Richard M. '57 & Patricia W Dutton
Joseph E. Esposito '69
Robert † L. Ezkorn '56
James D. and Diane S. Evans
Katherine Fay
Lawrence P.'74 & Lori D. Finch
Stephen A. Finn
Steven R. Forness '57
Thomas † A. Fortune '28
Paul † J. and Delores † L. Fry
V and Jan Gaines
Donald E. '51 and Cheri Gallegos
Guy H. '47 & Joan Gibbs
Anna E. Gough '07
John † T. Grace '52
Donal and Lindsey E. Grogan
Laurence † M. '28 and Zena † Gilford
Rich Hamilton '53
Edward † F. '44 and Iris † Hanifen
David L Harris '69
James M. and Carleen V. Haselden
Russell K. '57 and Susan Haskell
Charles † A. Haskell II '55
Thomas † V. '30 and June † Healy
William Hoover '47
John B. and Charlotte B. Jackson
Rev.Walter † R. Jaeger '40
David P. and Annette Jewell
Charles L. '58 and Debra † Johnson
Thomas J. and Pamela A. Kammer
David J. Kasik '66 and Jan Levine
Joseph † D. Keating
Margaret Kelley (DWK Foundation)
Frank Kelly '67
Richard J. '48 and Mary Kemme
Gretchen M. Kessler
Dorothy † W. King
Ellen L. Kiniry
Gerald J. and Alice L. Laber
Robert Lovelace '84
Lori R. Mahan
Thomas † J. Mahon '42
David A. '78 and Michelle Maybury
Conor '98 & Heather McCallin
Daniel J. '67 and Eileen McCallin
Christopher A. '78 and Collette M. McConnell
Anne McConnell
William P. '45 and Jeanne M. McDonald
Charles † A. '50 and Mary † P. McFadden
Rob R. McGregor '87
Dr. Brian M.'63 and Patricia McGuire
Terry '63 & Kay McManus
John E.and Cheri Meyer
Paul L.'04 and Abbey Miller
Gerald A. Mornin '65
Warren J. Olsen '74
Lee J. '78 and Olga L. Payne
Robert N. and Camille A. Pinkerton
Dennis K. '59 and Linda Primavera
Pamela Purcell
George E. '58 & Maureen Reid
Michael L. '72 and Jean F. Reidy
Rev. James ReVello '65
Andrew F. Rogers '67
Lon V. Saavedra '72
Samuel F. Saracino '69 and M. Victoria Ries
Martin J. '75 and Megan Schmitz
Vincent † N. '44 and Marilyn † Schmitz
Lawrence † E. Schneider (Florence Schneider Trust)
Daniel Sheehan '70 and Cecilia Prinster
Patricia † A. Shepherd
John F. Sheridan '76
Kevin H. and Katherine E.Sherrard
Walter † T. and Mary Jane † Sidney
Kenneth P. and Katherine I. Simmons
Robert † E. Simons
Kathryn L. Smith
Elsie † Stucka
Rick P. and Donna T. Sullivan
Rev. Robert † M. Syrianey '38
Michael & Betsy Tapp
Richard M. and Joan L. Todd
William † J. Webster
Michael † J. Werito '65
Timothy J. and Carmen Willard
John W and Mary T Zimmerman
Michael A. '74 and Nancy A. Zoellner

† = deceased